There's no denying that smart watches are one of the coolest and most useful pieces of tech you can get your hands on.
Unfortunately, smart watches are by the large quite expensive, and for many of us the price of these nifty little devices keeps us from turning science fiction into fact.
If you're one such person who'd love to rock a smart watch on a daily basis but sadly don't have the cash to splash, then you'll be happy to hear about the Fossil line of smart watches, due to arrive in Harvey Norman in the very near future!
These very stylish smart watches range in cost from €279 to €299, an unbeatable price compared to other top end models.
For the ladies, we'll have in stock the beautiful Q Venture Rose Gold-Tone Stainless Steel and the gorgeous Q Venture Sand Leather.
The guys can choose between the awesome Q Explorist Luggage Leather and the indominitable Q Explorist Smoke Stainless Steel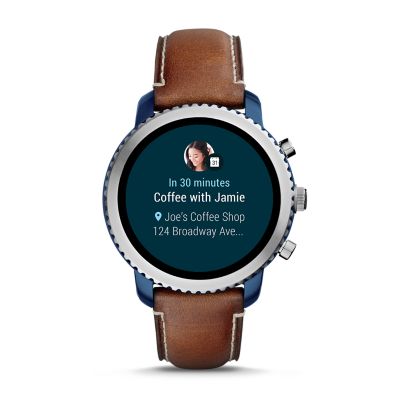 And of course, they come with everything you could ask for in a smart watch including:
A built-in fitness tracker, perfect for all types of activities and exercise routines
Notifications for social media, text, email, app alerts and more
A customisable dial you can personalise to reflect the real you
Easy-to-use music control
Voice activated Google search plus access to Google Maps
Compatibility with a range of Android devices and the iPhone
Swappable watch straps and a range of designs and styles
Fossil smart watches are set to take the world by storm.
Offering all the incredible features you'd expect from a top end smart watch at very consumer friendly prices, these wonderful smart watches will keep you connected and on time all of the time.
We'll have more info closer to our launch date so keep your eyes peeled!
For the very best in smart watches, shop in-store or online.